October 31, 2023 / News
PRIO presents its history and talks about projects and challenges at the Offshore Technology Conference (OTC)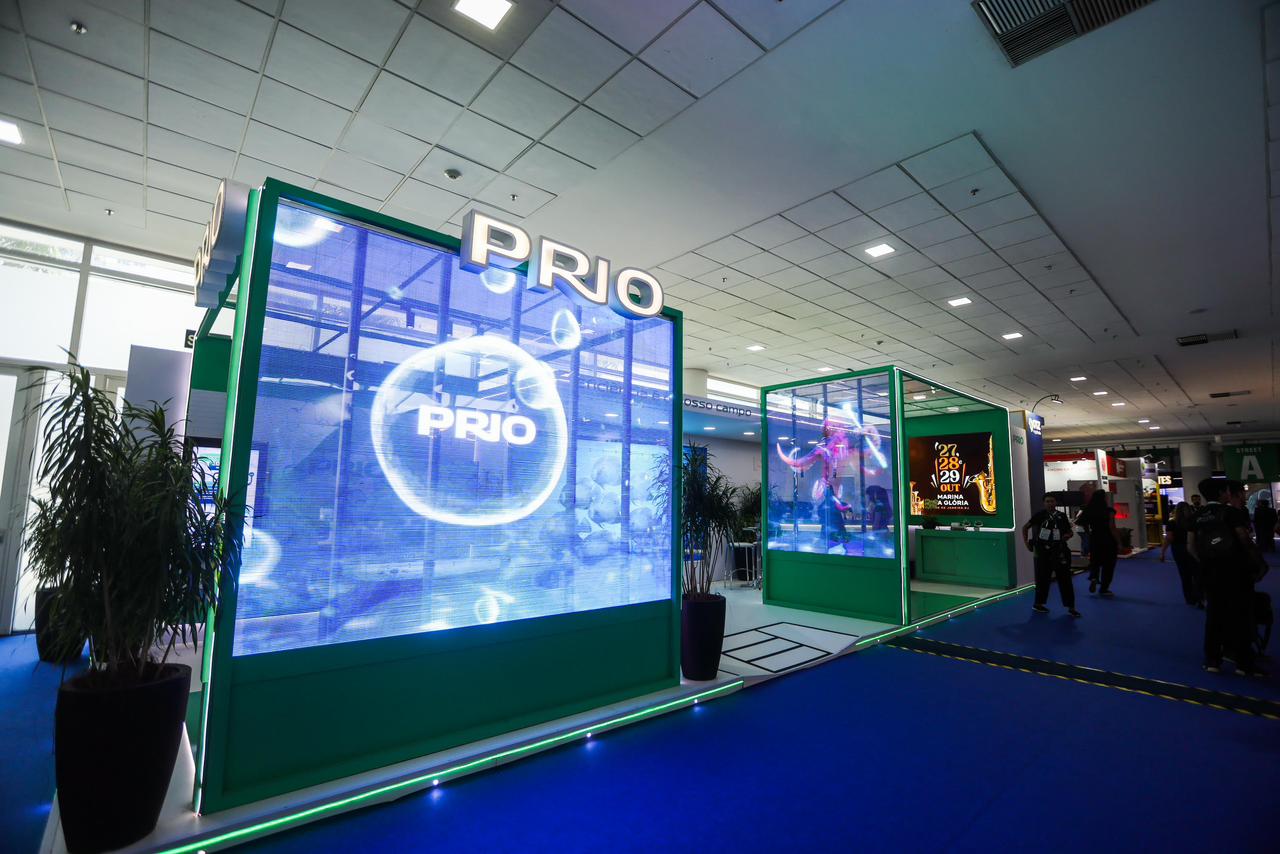 The company will tell its history through an interactive x-ray and will bring representatives from different areas to exchange ideas with industry partners and present news
PRIO remains strongly committed to investing in improving its assets with several initiatives that should increase production by 40 to 50% within two years. The company currently has five assets in the Campos Basin: Polvo, Tubarão-Martelo, Frade, Albacora Leste and Wahoo, the latter two being the most recent acquisitions. PRIO's revitalization planning includes drilling new wells, installing drainage systems and improving production units.
The topics that the company will take to OTC at its booth to discuss with partners and suppliers cover the main projects of the moment: the development of the Wahoo field; the redevelopment of Albacora Leste and a possible third wave of redevelopment of the Frade field. The latter has just undergone a revitalization campaign and has seen a production increase of over 250%.
The booth is located on the first floor of the fair, close to the entrance. Those who visit it will also be able to learn about the company's history, through a modern and interactive x-ray, in addition to talking to professionals from different areas, such as Supply, Human Resources, Sustainability, Engineering, Production, Security, as well as asset subsea managers. The space also has a giant screen with company actions focused on the environment and sustainability, as well as some sponsored initiatives.
OTC Brasil 2023, one of the main offshore technology events in the world and the largest in the country takes place on October 24 to 26, from 12:00 pm to 8:00 pm, at ExpoMag in Rio de Janeiro. The address is Rua Beatriz Larragoiti Lucas, in Cidade Nova.
Technology and operational security in mature fields
In addition to the booth, PRIO participates in the 11th edition of SOMA – ANP's XI Operational Safety and Environment Workshop, which takes place on Thursday, the 26th, from 1:00 pm to 6:00 pm, inside OTC. Francisco Francilmar, Chief Operating Officer at PRIO, will participate in a panel debate on 'Challenges in mature fields and life extension of facilities', at 3:50 pm.
OTC also counts on the participation of company professionals in presentations and specific technical discussions on panels to talk about well dynamics and integrity and reservoir dynamics, damage assessment and characterization, namely: "NMR Data Processing Using Gamma Function in the Evaluation of Oil Viscosity in Reservoirs of Campos Basin, Offshore Brazil", on the 24th at 11:20 am and "The use of 4D Geomechanical Models to Predict Wellbore Stability – Added Value and Implications", on the 25th at 3:40 pm.
Complete event schedule: https://www.gov.br/anp/pt-br/acesso-a-informacao/agenda-eventos/xi-workshop-de-seguranca-operacional-e-meio-ambiente-xi-soma
New horizons and company projects
Wahoo – This is the first project to develop a PRIO asset and is being carried out in a different and innovative format, coupling the production of this new field with that of Frade, an already mature operation, through a subsea tieback of more than 30 km. This solution is fundamental to foster operational synergy, cost optimization and reduction of environmental impacts. It will present a robust infrastructure and will initially have 4 production wells and 2 injectors, as well as a manifold and submarine with a multiphase pump for oil and water flow. Its production is scheduled for the beginning of 2024.
Albacora Leste – At the moment, the priority is to invest in improving the integrity, safety, and reliability of the operation, in addition to the well-being of the crew. Since its acquisition in early 2023, the field has initially added 25,000 barrels to our daily production and, in the coming years, we will implement a field redevelopment program with the purpose of increasing daily production and the asset's recovery factor. The field has more than 240 million barrels of proven reserves and had its useful life extended by over 20 years.
Business sustainability
# Environment
Oil and gas play a fundamental role in the present and future. Its production is evolving towards more efficient and sustainable processes and PRIO is committed to finding the best solutions for the energy sector. In 2022 alone, the company reduced its relative carbon emissions by 15%, and continues to seek to improve this number. PRIO also certifies emissions inventories following the Brazilian GHG Protocol Program methodology, with its latest inventory achieving the gold seal, guaranteeing the highest qualification level.
# Health and wellness
Healthy professionals, healthy company. The PRIO team is made up of high-performance 'athletes' on a professional and personal level. The Health and Wellness Program prepares each employee to exercise body and mind with activities such as running, trekking, stretching, physiotherapy, shiatsu, meditation, jiu-jitsu, yoga, telenutrition and online psychology.
# Sponsored Projects 
Large cultural, social and sports projects in the city of Rio de Janeiro rely on the support of PRIO as a form of giving back to society. In 2023 alone, the company has more than 40 active projects.  Among the highlights in the cultural field is the inauguration of Theater I❤️ PRIO at Jockey, in addition to events such as I❤️ PRIO Winter Festival, Meca, ArtRio, PRIO Humor Award, Favela Brass and Brazilian Symphony Orchestra. In the sports field, the company sponsors the Instituto Reação, run by judoka Flávio Canto, as well as a team of Paralympic athletes and the Porsche Cup, together with competitor Nicolas Costa.
And it does not stop there: Here comes I❤️ PRIO Blues&Jazz Festival in Marina da Glória, from October 27 to 29, with artists such as Frejat, Ivan Lins, Marina Lima, Seu Jorge, Maria Gadú, Ed Motta, Sandra Sá, among many others.
Career and opportunities
The company has several openings for PRIO's 2024 Internship Program, to work in the offices located in the Botafogo neighborhood of Rio de Janeiro. You can submit your application until the end of this month through the website https://programadeestagioprio2024.gupy.io/. The candidate must be expected to graduate between December 2024 and July 2026 in a wide range of courses.
There are also other vacancies that require a higher and technical level. Open positions can be monitored daily through the website https://prio.gupy.io/. Anyone who wants to get further information can speak to the Human Resources professionals who will be at the company's booth.